Morning!
WOW, what an amazing amount of entries we had for last weeks challenge you totally blew us away with all the animal creations! - the DT had a great time visiting your blogs and seeing such wonderful work!
Onto this weeks lucky winner of the $20 voucher from: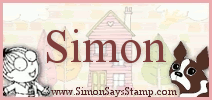 Is!!!.....
No 83 : Max!!
Congratulations !!! contact us to arrange your prize at charismachallenges@live.co.uk. You have till Sunday 6pm GMT london time to claim your prize!
It was also down to Allison choose her top 3 for her challenge. Here they are, in no particular order:
Marina-
http://creativecandy4u.blogspot.com
Janet -
http://christmas-prep.blogspot.com
Craftypagan -
http://craftypagan.blogspot.com
Ladies, please make sure that you pick up your Top 3 banner from the right hand of the blog!
Make sure to come back in a while for today's new challenge!